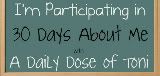 So it's day 1 of 30 and the first writing prompt is favorite song.  First off, I want to thank Toni of Daily Dose of Toni for putting together this blog tour.
This one is hard because I don't have one favorite song of all time.  I have lots of songs that I love.  I know they say Math is the universal language but I believe music is.  So instead of picking one song from my vaste taste in music, I figured I would pick a song that I am loving right now from each genere.  I listen to country, rap, R&B, pop, rock, classic rock, classical, oh the list could go on and on.  If I have time, I will go find the links (iTunes and Amazon) and video (YouTube).
Folk Music: Johnny's Camaro – David Wilcox
MoTown: Ain't No Sunshine – Bill Withers
Country: Alyssa Lies – Jason Michael Carroll
Electronica: Bump – Rehad
Music From Movie – Burning Heart – Survivor – Rocky Soundtrack
Music from Broadway – Defying Gravity – Wicked
Rap: Empire State of Mind – Jay-Z and Alicia Keys
80s Hair Band – Tie between Final Countdown – Europe and You Give Love A Bad Name – Bon Jovi
R&B – Halo – Beyonce
Classic Rock – Hells Bells – AC/DC
Rock – Zoe – Staind
Running Song: Life is a Lemon – Meatloaf
Really I could go on and on.  Most of these are on my running playlist especially the Meatloaf ones because they are long and I cna put two of them on and know my run is almost complete.
What is your favorite song?  Can you pick out just one or do you have one per genre?
Again, I really want to thank Toni for putting this series together. If you'd like to participate in 30 Days About Me, it's not too late! Head over to her site, find the prompts for each day, and start writing. Then head back and link up with her each day.
Post Footer automatically generated by Add Post Footer Plugin for wordpress.