I am extremely grateful for Toni, from A Daily Dose of Toni, was kind enough to create a list of prompts each day for us to follow.  Today is Day 2 of 30 days about Me.  If you told me I have to come up with 30 days worth of posts, I would have given up.  Toni providing the prompts is really working for me.
My Favorite Movie: As you can see from the picture to the left, I have a lot of DVDs.  I could watch 2 movies a day it would take me over a year to watch each one.  I stopped buying so many DVDs lately because some of those are not even open.
But out of all those I do have one favorite and it Remember The Titans.
Many years ago, I worked at Blockbuster.  My manager had a policy that you could only watch Disney movies on the overhead.  Seeing how I wasn't into Princess movies this was my option.  I alternated between Remember The Titans and Tarzan.
I know every word and every song to the whole movie. I could do a one man show to it. You might not want to watch it but I could do it. The funny thing is when they show movies in the break room at work, guess what is playing?
What is your favorite movie?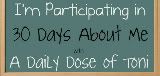 Post Footer automatically generated by Add Post Footer Plugin for wordpress.